Now that we have the football out of the way time to talk about important things like SUNDAY! WHOOP WHOOP!
After the hustle and bustle of church. Getting a toddler ready. Keeping him happy during Sacrament, and being reverent and happy for an HOUR! I get the privilege of teaching the most impressionable members of our church. The Primary children. Oh how I LOVE IT! Seriously. Listen. Its is the best kept secret in our church. They are old enough to understand and they take everything you tell them to heart. They understand more than most adults and they BELIEVE better. Make fun of Santa all you want this time of year, but it teaches children the most basic foundations of faith. Believing without seeing. Love IT!
I come home and guess what is waiting for me on the counter!!! A SUNDAY PAPER. Oh sweet mother! The smell of a Sunday paper is like the scent of a new car to me. Fresh. Crisp. (insert snapping of money here!) Because folks that is what Sunday and Wednesday papers are!! MONEY!! HOOOOLLLLLAAAA!
Coupon Clipping. Ad Matching. Goodness! Its a passion. Saving money isn't something I can do without. Living on one income I am faced with making $25 feed us for a week! (ok its not that tight around here but you get the picture) I am not as good as those Extreme Couponing ladies, but I am a legend in my own home. I love Sundays. It's the THRILL of getting stuff close to or even free that makes it all worth it. Wanna know how to do it? GREAT! Keep reading.
I usually do all my food shopping at Aldi's now. If you don't have those in your neck of the woods...its ok. We will pretend for a few minutes you just might have a Walmart close by. The reason I choose Walmart is because they have a pretty liberal "Ad-Matching" policy that beats just about anyone around. To the local folks its called "Comping". Find it cheaper somewhere else...Walmart will override the price at the register. Yes. I said it. Do not let the cashier bully you. You do NOT have to have the Ad. (But if you have a large order you may want to have it close by to show her you mean business.)
Ok. Got your pen close by? A pad of paper? And the Sunday paper... --I'll wait-- Ok now lets get started.
1. Always and forever...from now on. You clip EVERY SINGLE coupon you might, possibly, someday, may use. Period. No exceptions. Obviously if you don't have pets you don't need dog food, but you get the picture.
2. Get something small to start out with that you can leave in your purse to store coupons. -NEVER get caught off guard!-
3. Never go shopping without a plan.
Step 1
Collect all the ads and coupons. I don't care if you don't shop at Larry's Food Mart...get it anyway.
Step 2
Cut out those coupons
Step 3
Go through the ads and write anything down that you either A: Have a coupon for or B: You use, or C (my favorite) There is a coupon AND and Ad to match. Which I like to call...
The Double Whammy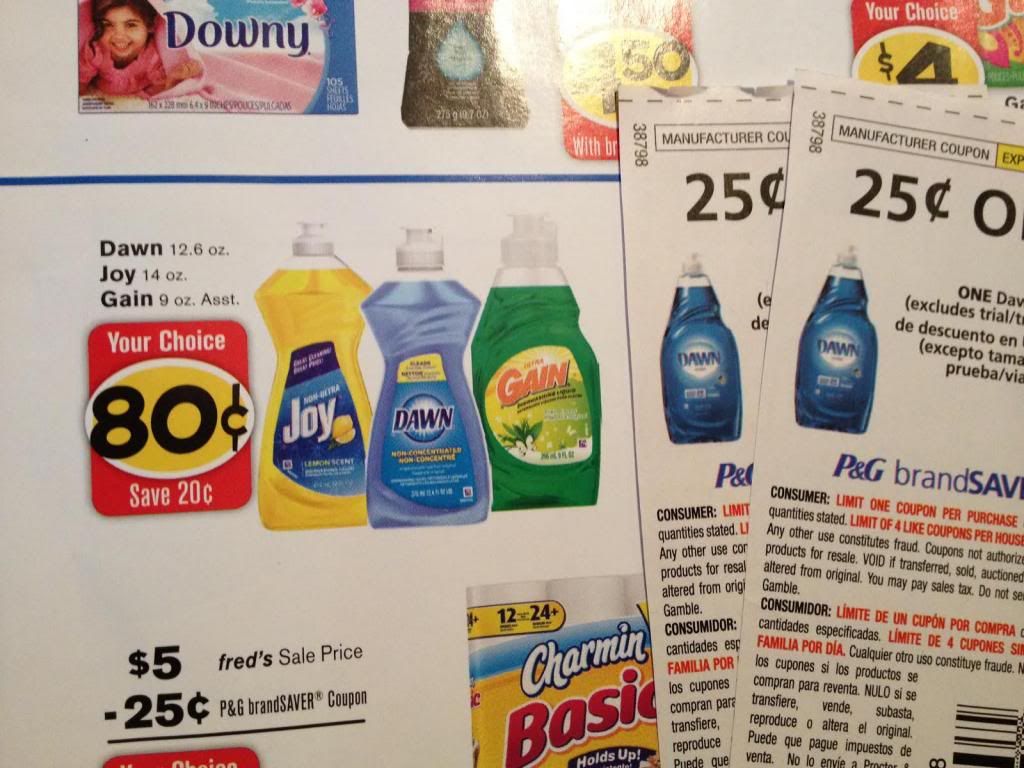 ok. Here is my first "deal". This is a Fred's Ad. Its important to note the size on the bottle and make sure they are they same size in the store.
Walmart has Dawn for .99. (Trust me. I know. I buy it all the time.) This is a good price at Fred's. I have a coupon. Making these Dawn at the register .55! That's a killer deal. If you find a SUPER deal and just cant live without more than a few.
Click Here
and this place has every coupon that you will need. Its a good deal and they get to you fast.
When you get to the register say "I have a few items I want to ad match." I would
HIGHLY
recommend you separate your items. Regular priced items and items you are going to "Comp". This way nothing is missed. Hand her the coupons
AT THE VERY LAST
! I want to watch her take them off.
The Single Hitter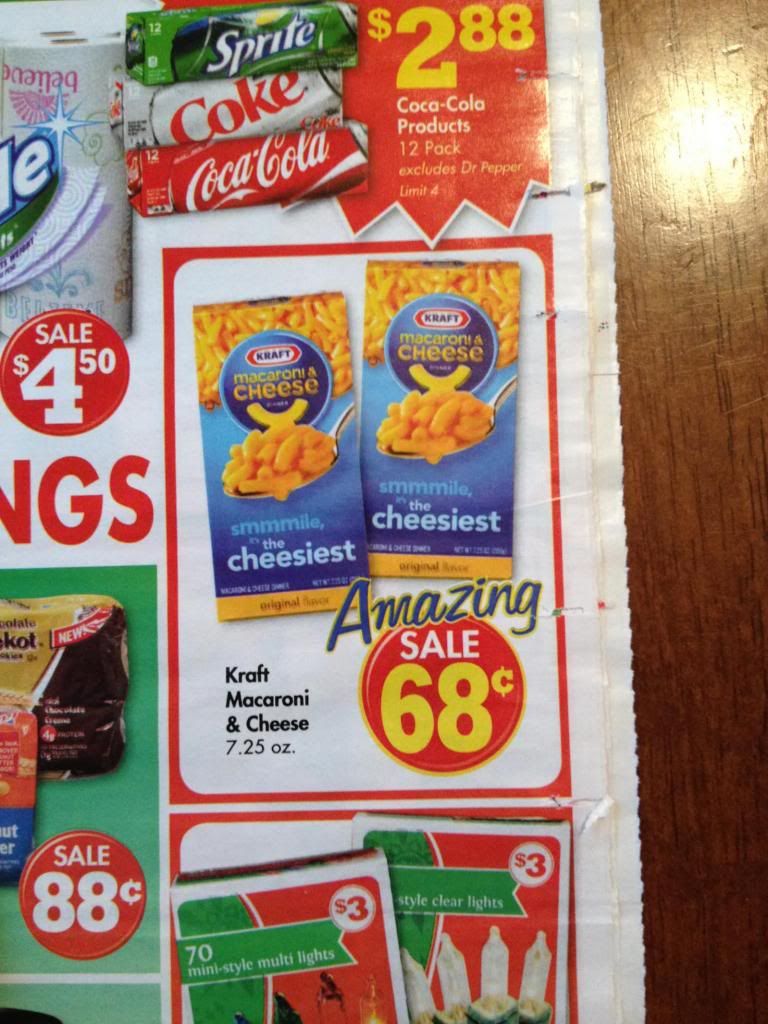 In our house Macaroni and Cheese is a food group. Not by choice. My son really won't eat some days and this is the only thing I can get him to eat...I choose not to fight this battle with a two year old right now. Where else can you get KRAFT for that price. Something else you may not have noticed but it NOT just for the original flavor its any Kraft...so there ya go. Usually an ad will specify exactly which flavor.
We will get into double coupon days in other stores another day. That is all for now.
Can you do it better? Let me know! I would love to hear from you.